What's the game about?
Everlasting Summer is a visual novel from russian developers that offers very sincere and bright emotions about the days past and hopes yet to come true.

Meeting Semyon, the game's main character, you would've never paid attention to him. Just an ordinary young man with thousands, even hundreds of thousands of those like him in every ordinary city. But one day something completely unusual happens to him: he falls asleep in a bus in winter and wakes up... in the middle of a hot summer. In front of him is "Sovionok" – a pioneer camp, behind him is his former life. To understand what happened to him, Semyon will have to get to know the local inhabitants (and maybe even find love), find his way in the complex labyrinth of human relationships and his own problems and solve the camp's mysteries. And answer the main question - how to come back? Should he come back?
Gallery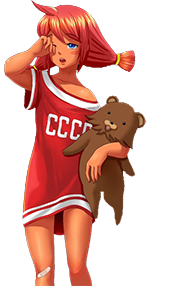 Hentai patch
Download the patch
and put it in the folder:
%Steam%\SteamApps\common\Everlasting Summer\game\
Patch restores all hentai pictures and their display in gallery.
Doesn't affect achievements and stuff!
This goes for Windows, Mac and Linux users.
For Android version
unpack the archive
on sd-card in the folder:
Android\data\su.sovietgames.everlasting_summer\files\
Depending on the device this folder may differ, but after the first run the game creates the folder su.sovietgames.everlasting_summer\files, so it's up to you to find it.
Don't need to start New game or remove saves.
Everlasting Summer music
Everlasting Summer: Bright Side (44 tracks)
Everlasting Summer: Dark Side (19 tracks)
Everlasting Summer: Bonus Tracks (4 tracks)
News
Contact us
mail@sovietgames.su